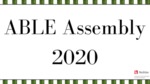 Title
Technology and Music Education What Does Literature Say?
Files
Publication Date
10-4-2020
Document Type
ABLE Assembly Conference Session Materials
Keywords
Assistive technology; MIDI; Sharing culture; Augmentative and Alternative Communication
ABLE Arts Resource Center Terms
ABLE Arts Resource Center; ABLE Assembly; Autism; Deaf-Blindness; Developmental Delay; Dyslexia; Hearing Impairment; Intellectual Disability; Multiple Disabilities; Orthopedic Impairment; Special Needs; Specific Learning Disability; Speech or Language Impairment; Visual Impairment (Including Blindness); Music Therapy; Remote Learning; General Music; Accessibility
Assembly Session Video Notes
Main video file contains a video of the presentation given by Lisa Pierce-Goldstein.
Secondary File Notes
Documentation contains references. Zip file contains documentation and presentation slides.
Recommended Citation
Pierce-Goldstein, L. (2020). Technology and Music Education What Does Literature Say?. Retrieved from https://remix.berklee.edu/able-assembly-conference/44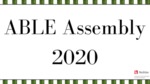 COinS