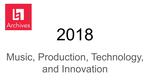 Title
MixSpaceVR: An Interactive Audiovisual Mixing Experience in Virtual Reality
Abstract
The goal of this project is to offer a more abstract and visual approach to understanding how to mix audio, while also being a creative and immersive way to interact with music. The basic design of the game is a 3D space with several colored spheres floating against a wall. The spheres could be moved and manipulated with a laser, and based on where they were moved in respect to the back wall, the sound associated with that sphere would be manipulated as well. The game consists of not only the program Unity, a major game development platform, but also Max, Max for Live, and Ableton as well. During the course of the project, the student will have explored techniques like scripting in the C# language, creating three-dimensional interactive game objects, and using OSC to create game interaction with outside programs such as Ableton. The final result of this project should be a fully immersive audiovisual mixing experience, that will hopefully inspire others to understand more about audio, and the possibilities of music technology.
Publication Date
7-1-2018
Campus
Valencia (Spain) Campus
Project Components
Abstract Only
Recommended Citation
Yen, Alexander K. "MixSpaceVR: An Interactive Audiovisual Mixing Experience in Virtual Reality." Master's Project, Berklee College of Music, 2018. https://remix.berklee.edu/graduate-studies-production-technology/103.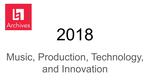 COinS