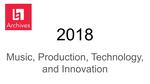 Title
The Dent in The Crystal
Files
Abstract
This project is made up of a concept album which consists of 4 songs that are influenced by experimental music, electronics, jazz, Arabic and hiphop along with visuals that are influenced by surrealism, minimalism, abstract , dada-ism and neo-realism. Just like many artists who have produced a concept album, she uses technology as one of her main tools of production. A great tool to be taken advantage of, but she questions , are we only using technology as a tool? Or are we dependent on it? For our mental and physical health, it is important to be able to reconnect with ourselves and each other and to be aware on the usage of technology. However, when it comes to music/art making, she questions; who is the creator of your work? Is it pure love and passion? Or is it the program? Who or what is the reflection of your work? Is it both? If so, can you differentiate between the two? What happens to us as artists if we eliminate the program? Consideration of internal and external issues happening in ourselves and in society; this project reflects her process of thoughts and emotions towards these issues. These questions inspired Serena to find answers through a new approach in music/art making. A reflection of her process of creating art and music out of the program and through an experience which was delivered and presented in a showcase through an audio-visual installation. Most importantly, throughout this journey, her main goal was to find her artistic/musical voice and ground it. In the end of this project, a new aspect of her artistic character emerged within her; which a part of her appreciates.
Publication Date
7-1-2018
Campus
Valencia (Spain) Campus
Project Components
Project Components: one project video (.mp4), one reflection paper (.pdf), one presentation (.pdf), one megamix video (.mp4), project files (one ZIP file containing 7 .mov files, 4 .stl files, 13 .aep files, 6 .jpg files, 3.png files, 4 .psd files, 2 .ai files, 1 .avc file, 2 .svg files).
Recommended Citation
Abou Daher, Serena. "The Dent in The Crystal." Master's Project, Berklee College of Music, 2018. https://remix.berklee.edu/graduate-studies-production-technology/133.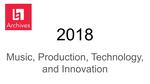 COinS