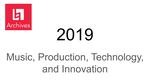 Title
FLY on THE WALL: Interactive Visual and Audio Installation
Files
Abstract
Fly on The Wall is a visual-audio installation that incorporates an interactive walk thru; staged lighting, props, and visual components for each movement of the eight-minute piece of music. It utilizes and applies dramatic theory; French Scenes, color theory, and character development. The set is cyclical in design and shape, and divided into three sections, bestrepresenting an exposition/point of attack, climax and denouement. The purpose of the installation was to serve as an experiment in the delivery of character, narrative, commercial audio and reactive interaction with the individual listener. All challenges throughout the process were met and resolved with ease. Ultimately the installation was completed and opened to the public at the Centre del Carme Museum in Valencia for a weekend. Moving forward it is the intention to erect this installation again in varying venues, as an integral way of marketing the future business endeavor for the creation of community computer labs and creative space. In addition, the artistic hope is that Fly on The Wall will develop into a multi character series.
Publication Date
7-1-2019
Campus
Valencia (Spain) Campus
Keywords
Installation; Audio; Visual; Ableton; MaxMSP; Resolume; Adobe; Projection
Project Components
Project Components: one project video, one reflection paper, one presentation.
Recommended Citation
Ragonese, Erin. "FLY on THE WALL: Interactive Visual and Audio Installation." Master's Project, Berklee College of Music, 2019. https://remix.berklee.edu/graduate-studies-production-technology/155.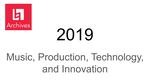 COinS