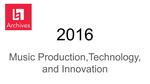 Title
The Underpinnings of Electronic Music: A Study and Application of Electronic Music Theory
Files
Abstract
For my culminating experience I plan to compose an original seven-track electronic album and produce four associated studio videos. The album will showcase my personal style along with my findings on the underpinnings of electronic music. To learn about these substructures in electronic music I will employ research, active listening, and personal musical experimentation. The four studio videos I create will each correspond to a track on my album and essentially function as online tutorials of my techniques and theories on electronic music. However, they will also document my journey making my album, further my online presence, showcase my teaching abilities, and market my music. I will release both my album and the studio videos on YouTube (individually spread over time, as well as Spotify, iTunes, Bandcamp, Soundcloud). My individual tracks will feature visual audio spectrums made within After Effects (similar to many record label YouTube channels such as Monstercat).
Publication Date
7-1-2016
Campus
Valencia (Spain) Campus
Project Components
Project Components: one project video, one report, one presentation (ZIP file), tutorials (one ZIP file containing four .mp4 video files), album (one ZIP file containing seven WAV audio files, one .mp4 video file, and one PDF document).
Recommended Citation
Binhammer, Ryan. "The Underpinnings of Electronic Music: A Study and Application of Electronic Music Theory." Master's Project, Berklee College of Music, 2016. https://remix.berklee.edu/graduate-studies-production-technology/62.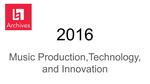 COinS