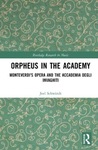 Title
Orpheus in the Academy: Monteverdi's First Opera and the Accadmia Degli Invaghiti
Description
Judy Pinnolis, Associate Director, Instruction and Engagement at the Library at Berklee, talks with Dr. Joel Schwindt, Assistant Professor of Core Studies about his book, Orpheus in the Academy: Monteverdi's Opera and the Accademia Degli Invaghiti.
Video editing by Stacey Snyder.
Publication Date
8-17-2021
Featured Music
"Library Piece" by Jess Kerber.
Recommended Citation
Schwindt, Joel and Pinnolis, Judith S., "Orpheus in the Academy: Monteverdi's First Opera and the Accadmia Degli Invaghiti" (2021). Books@Berklee. 6.
https://remix.berklee.edu/library-books-at-berklee/6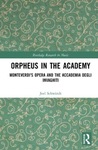 COinS