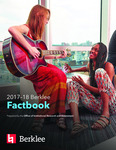 Abstract
Welcome to the 2017–18 Berklee Factbook. This factbook has been designed by the Office of Institutional Research and Assessment as an accessible resource for official Berklee statistics.
In the following pages, you will find valuable data on students, faculty, staff, programming, and tuition. Gathered from many areas throughout the institution, data is shown for Berklee as a whole, as well as for each legacy institution where applicable and available. This data reflects information as of the fall 2017 semester, unless otherwise noted. Data and trends from previous years are available in the appendix.
Facts of particular note include a total student enrollment of over 6,700; a 29 percent international student population; three consecutive years of increased graduation rates; and information on the students in the First Year Abroad program. I encourage you to review the information in the factbook and refer back to it as needed. If you have any questions, please contact Institutional Research and Assessment at institutionalassessment@berklee.edu.
Keywords
Data; Student Enrollment; Retention; Graduation Rates; Programming; Tuition; Degrees; Trends; Demographics
Disciplines
Higher Education Administration
Recommended Citation
Office of Institutional Research and Assessment, "2017-2018 Berklee Factbook" (2018). Berklee Factbook. 7.
https://remix.berklee.edu/oira-factbook/7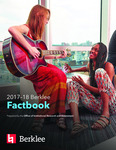 Included in
COinS