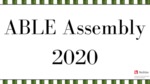 Title
Developing Aural Skills for Deaf and Hard of hearing (DHH) Students
Files
Publication Date
10-3-2020
Document Type
ABLE Assembly Conference Session Materials
Keywords
Aural skills; Assistive technology; Dictation; Curriculum design
ABLE Arts Resource Center Terms
ABLE Arts Resource Center; ABLE Assembly; Deaf-Blindness; Hearing Impairment; Voice; Accessibility
Assembly Session Video Notes
Main video file contains a video of the presentation given by Michael Vitalino.
Secondary File Notes
Article 1 contains content relating to instructional strategies to provide Deaf students more access to the aural skills curriculum. Article 2 contains an expansion of existing aural skills instruction. Documentation contains citations. Zip file contains two articles, documentation, and a presentation.
Recommended Citation
Vitalino, M. (2020). Developing Aural Skills for Deaf and Hard of hearing (DHH) Students. Retrieved from https://remix.berklee.edu/able-assembly-conference/13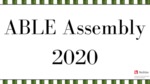 COinS