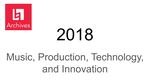 Title
Cultural Intersection: The Exploration of YLOH's Artistic Identity
Files
Abstract
Andres Llano, known as "YLOH", is currently in search for a specific identity as an artist. For this reason, as his culminating experience at the Music Production, Technology, and Innovation program at Berklee College of Music, he decided to create a 2 EP project titled Cultural Intersection. The whole project aims to combine audio and visuals of what inspires him the most – his Latin roots, and electronic music. To better promote his art, every track is accompanied by its own unique music video. Cultural Intersection begins with his first EP, Accentus, which consists of 3 experimental tracks drawing inspiration from his time living in Europe; it then follows with his second EP Spirit of the Desert, which is a 3 track Latin/House EP that aims to showcase his beautiful hometown in San Carlos, Sonora, Mexico. The musical exploration behind this project will reflect YLOH's inspiration, and growth as an electronic music producer. He now faces the challenge of building his brand and creating traction with his audience. He hopes this project will assist in his development of additional tools for his music and live sound, while giving a cohesive point of view towards his position as an artist in an ever-changing music scene.
Publication Date
7-1-2018
Campus
Valencia (Spain) Campus
Keywords
music production; audiovisual; video; music; electronic
Project Components
Project Components: one project video (.mp4), one paper (.pdf), one presentation (.pdf), music tracks (one ZIP file containing six .wav audio files), music videos (one ZIP file containing six .mp4 files), other project files (one ZIP file containing four .pdf documents).
Recommended Citation
Llano, Andres. "Cultural Intersection: The Exploration of YLOH's Artistic Identity." Master's Project, Berklee College of Music, 2018. https://remix.berklee.edu/graduate-studies-production-technology/104.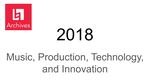 COinS