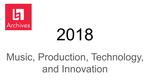 Title
Chord Suggestions iPhone App for Original Melodies: App Name: ARIA Chord
Files
Abstract
ARIA Chord is an app that can suggest chords to accompany an original melody in real time. The users can import their melody through a MIDI file. ARIA Chord focuses on suggesting unique chord variations that can make a progression ideal for any music genre. Its purpose is to allow anyone to write like a guitarist, pianist or any other polyphonic instrumentalist. Additionally, the suggested chords can be filtered out by using the emotion filters, which will then show the most related and desired chords. The emotion tool can help the user find more complex variations of chords that can access more complex emotions. Also, ARIA Chord will give you the option to filter out chords according to the genre you write (more complex chords and inversions for jazz, simpler catchy chords for pop, more aggressive chords for rock, etc.). What makes ARIA Chord unique is its ability to analyze an inserted melody and, after the user has set the desired key, show all the available chords that belong to that scale.
Publication Date
7-1-2018
Campus
Valencia (Spain) Campus
Project Components
Project Components: one project video (.mp4), one reflection paper (.pdf), one application (ZIP file).
Recommended Citation
Stylianides, Christos. "Chord Suggestions iPhone App for Original Melodies: App Name: ARIA Chord." Master's Project, Berklee College of Music, 2018. https://remix.berklee.edu/graduate-studies-production-technology/108.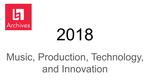 COinS