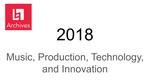 Title
Not For You: A Visual Album by Gracie Hays
Files
Abstract
This visual, spoken word, three-track EP was born out of an experience that Gracie Hays had in her own personal life. She went through a manipulative and emotionally abusive relationship, and in the time after it when she came to Berklee Valencia, she decided to make an EP about it. Since many women go through the same thing, Gracie's main goal with this project was to help and unite these people, and tell people who haven't gone through something similar, what it's like. Writing and composing these three songs, and three spoken word pieces was truly a challenge for her. In order to write the songs, Gracie had to relive her own past, and it proved harder than she originally thought. However, she was able to overcome her writer's block and continue on to recording, mixing, mastering, storyboarding, filming, and editing the entire project. Gracie did 100% of the work for this entire album, from start to finish. This is what truly makes this project innovative. Gracie was able to fill every single role in the process, and create this album within a period of 9 months. She plans to release her EP second track, "Gone," as a single on June 22, 2018, and the entire album, Not for You, with accompanying video on July 27, 2018. Gracie is extremely proud of the final product, and can't wait to share it with the world.
Publication Date
7-1-2018
Campus
Valencia (Spain) Campus
Project Components
Project Components: one project video (.mp4), one reflection paper (.pdf), EP (one ZIP file containing 3 .wav audio files), music videos (one ZIP file containing 6 .mp4 files).
Recommended Citation
Hays, Rosemary. "Not For You: A Visual Album by Gracie Hays." Master's Project, Berklee College of Music, 2018. https://remix.berklee.edu/graduate-studies-production-technology/131.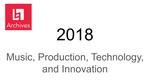 COinS