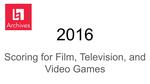 Title
Trash Planet and the Sounds of Dancing in Space: An analysis of Disney/PIXAR's WALL•E as a modern-day silent film
Files
Abstract
WALL•E has much to offer its audience. The movie explores many good moral themes, has stunning visuals, and impeccable music. Perhaps its most interesting quality is its lack of dialogue. In the entire movie, there are 862 spoken words. This is a small fraction of the amount of dialogue in other films. It is necessary then, that the film rely other auditory sources as well as visual communication to tell the story and relay its information. Films from the Silent Films era function in this same way, but completely relying on non-verbal communication, short of the speech cards that pop up at very important moments. This idea highly motivated me to study WALL•E and its use of music. My main focus in this paper will be on analyzing Thomas Newman's music in WALL•E, and how the uses of music parallel those found in silent films.
Publication Date
7-1-2016
Campus
Valencia (Spain) Campus
Recommended Citation
Stever, Shane. "Trash Planet and the Sounds of Dancing in Space: An analysis of Disney/PIXAR's WALL•E as a modern-day silent film." Master's Project, Berklee College of Music, 2016. https://remix.berklee.edu/graduate-studies-scoring/53.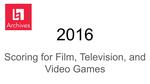 COinS