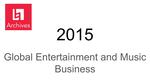 Title
MBC Festival and Sónar+D
Abstract
For my Culminating Experience project in the Global Entertainment and Music Business Master's program of 2015 I focused on the music festival and conference sector of the international music industry, therefore complying with my focus in Live Events at Berklee College of Music - Valencia. The project consisted of two parts: a position on the Artistic Production team at the MBC Festival in Valencia and a position as Translator, Hospitality and PR at Sónar+D, Sónar Barcelona's new technology and business conference during Sónar by Day. The two projects aligned with my focus in Live Music Events through the Live Practicum course, which took place during the spring term, 2015. While unalike in nature due to their differing phases of development, my experience at MBC and Sónar+D complemented one another by showing me the reoccurring structures, endeavors, methodology and roles observed in the production of events of this kind and size and by exposing me to the industry of live music events in Spain.
Publication Date
7-1-2015
Campus
Valencia (Spain) Campus
Recommended Citation
Hoffman, Julia. "MBC Festival and Sónar+D. " Master's Project, Berklee College of Music, 2015.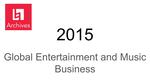 COinS